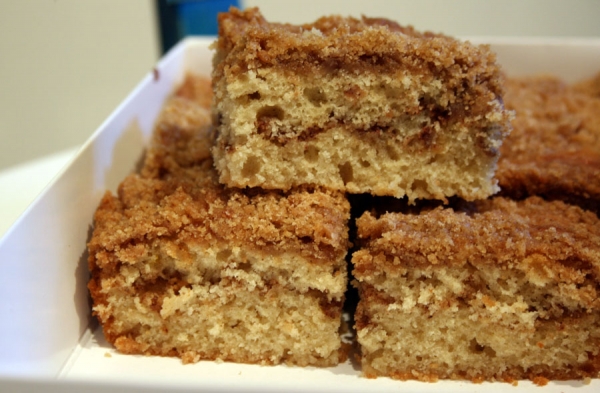 CLASSIC COFFEE CAKE
Starbucks Copycat Recipe
Topping:
1 cup all purpose flour
1 cup packed light brown sugar
1 1/4 teaspoon ground cinnamon
1/2 (1 stick) of butter, softened
Filling:
1/3 cup light brown sugar
3/4 teaspoon ground cinnamon
Cake:
3/4 cup butter, softened
1/3 cup packed light brown sugar
1/2 cup granulated sugar
2 eggs
1 tablespoon vegetable oil
1 1/2 teaspoon vanilla extract
2 cups all purpose flour
1 teaspoon baking soda
1/4 teaspoon baking powder
1/4 teaspoon salt
1/3 cup buttermilk
1/3 cup whole milk
Preheat oven to 350 degrees. Combine topping ingredients, cutting in the butter to form a crumbly texture. 2. In a separate small bowl combine the filling ingredients. Using an electric mixer cream the butter and sugars together then add the eggs, oil and vanilla. Combine well. Sift together flour, soda, salt and powder. Add the flour mixture alternating with the milk and buttermilk. Do not overmix.
Spread 1/2 the batter in a greased 9x13 inch pan. Sprinkle filling evenly over the batter then top with remaining batter and finally, spread the topping evenly over the top. Note: The batter will be thin in the pan - it might be challenging to spread it out to cover the filling, but that's OK! Bake for 30-40 minutes or until toothpick comes out with just a few crumbs clinging to it.